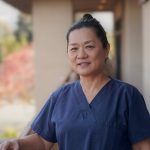 Dr. Peirong Guo D.D.S., MSc graduated from Dental College at New York University, New York in 1999 with her Doctor of Dental Surgery (D.D.S.) degree. She spent the next year at UCSF Medical Center and the VA Hospital for her residency program. She is affiliated with the American Dental Association, the California Dental Association, and the Santa Clara County Dental Association.
In the past few years Dr. Guo has pursued additional advanced training in Fastbraces orthodontics. Fastbraces is a revolutionary system of fast, safe, easy and affordable braces to straighten teeth in a shorten amount of time for both children and adults.
Dr. Guo is also passionate about minimally invasive dentistry and has emphasis on patient communication and comfort as well as keeping up to date with the latest advancements in dentistry.
In her spare time, Dr. Guo likes to watch National Geographic series. She also enjoys traveling to different places and immerse in the local culture, try new foods, and meeting new people.
Henry W. Longfellow once said, "the talent of success is nothing more than doing what you can do well; and doing well whatever you do." Dr. Guo firmly believes in this motto and her goal is to provide the best dentistry she can to all her patients.